The SecurView™ SV-9159 is a multi-camera replacement style rear view mirror monitor with a built-in DVR system and 120° 1080P CMOS camera. This style of mirror completely replaces the OEM mirror while giving you the convenience of a 4.3″ LCD Screen and (2) video inputs. Once the mirror is installed it looks completely factory and the screen is completely invisible when not in use.
The SV-9159 has a built-in DVR system which uses a 32GB max SD card for recording storage. The DVR system has automatic recording when the ignition is turned on and Also has a built-in G-Sensor to begin recording when the vehicle is involved in an accident. When the car is parked and the ignition is off, the built-in motion sensor will provide surveillance over the car and will begin recording as soon as anything moves in front of the camera. Recordings are stored on the SD card and can be played back on-site or the SD card can be removed from the mirror and viewed from your home computer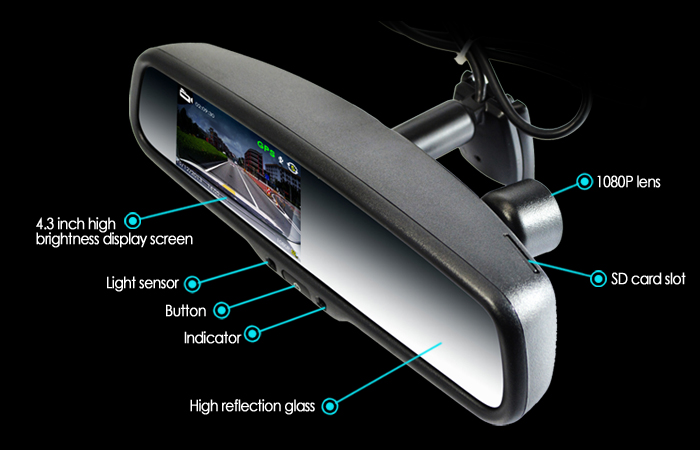 The built-in 120° CMOS camera will provide recordings for the front of the vehicle and two additional cameras can be hooked up for the back and the interior of the vehicle. The rear camera will automatically switch on when the vehicle is shifted into reverse and the main camera in the mirror will activate when the camera is shifted back into drive. The 1080P HD monitor has a crystal clear display will give you the best image possible and is completely invisible when not in use. The mirror also uses anti-glare technology for reduce light reflection giving the driver better daytime and nighttime driving conditions.
The SV-9159 can be used with any of the SecurView™ or PlateCam™ cameras or any other camera that uses an RCA cable video connection.