More on Pioneer's NEX or Networked Entertainment eXperience
Pioneer's NEX or Networked Entertainment eXperience line of receivers feature an innovative and powerful new user interface which is responsive and highly customizable. The NEX models are designed especially for today's smartphone-driven lifestyle.
---
APPLE CARPLAY™
The AVIC-5100NEX features Apple CarPlay, the smarter, safer and more fun way to use your iPhone® in the car. Apple CarPlay gives iPhone users an incredibly intuitive way to make calls, use Maps, listen to music, and access messages with just a word or a touch. Learn more at www.apple.com/ios/carplay or www.pioneer-carglobal.com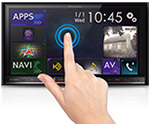 ENHANCED USER INTERFACE
More advanced than ever before, NEX features a responsive, powerful and intuitive touchscreen user interface that is easy to use and highly customizable. Clearly, NEX is designed specifically for today's smartphone and tablet-driven lifestyle.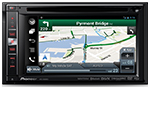 FUTURE OF NAVIGATION
In addition to the latest mapping and turn-by-turn directions to a large database of Points-of-Interest, things like restaurants, gas stations and ATMs. Four of the five NEX models with built-in navigation offer detailed, reliable traffic and route guidance information to help you get where you want to go.
STAY CONNECTED
Connect your compatible iOS, Android™ or MirrorLink™ smartphone with NEX for a truly connected experience, bringing many of your favorite apps right into the dashboard and letting you communicate using advanced high quality Bluetooth connectivity.
In addition to playing numerous sources and file formats, Pioneer's AppRadio® Mode allows you to bring many of your favorite apps right into the dashboard.
All NEX models feature built-in Bluetooth® that enables both hands-free calling and audio streaming. Including the latest Hands-Free Profile (HFP 1.6) with Wideband Speech capability, NEX provides more natural sound quality and details during calls. When streaming music, NEX even lets you browse and select the media stored on your smartphone using the AVRCP 1.4 profile.
Note: MirrorLink compatibility is limited to certain Android phones and varies by phone, phone OS version, and carrier.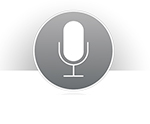 POWER OF SIRI® Eyes Free
Users of an iPhone® with Siri can take advantage of Siri Eyes Free functionality. With a simple touch of the NEX touchscreen, Siri starts listening through the NEX unit's external microphone and answers your questions and requests over the vehicle's speakers, helping you keep your eyes on the road and your hands on the wheel.
SOUND QUALITY FOR ALL
Your car and your music are as unique as you are. With a Pioneer NEX in-dash receiver, sound quality features like built-in Auto EQ and Time Alignment, 13-Band Graphic Equalizer with touch panel swipe settings and built-in high/low pass crossover with adjustable points and slopes provide you with the controls to tailor the listening experience to your vehicle and listening preferences. The CD-MC20 microphone is required for Auto EQ features and sold separately.
Need some help deciding which Pioneer Navigation System is best for you?
Get in touch with us today and we'll be more than happy to help you out!
Give us a call: 905-576-0030